The soaring number of applications and connected devices continues to increase the demands placed on enterprise Wi-Fi networks. These demands can exceed the limitations of today's networking capabilities leading to network congestion, slower speeds and network instability – in other words, a poor user experience.
Wi-Fi 6E, which extends the features of Wi-Fi 6 (802.11ax) to the 6 GHz band, provides a welcome solution to these issues. What makes Wi-Fi 6E such a game changer is that it maximizes both user and IT experiences by offering enterprises more capacity and increased channel width. Additionally, the availability of so many more channels in the 6 GHz band promises less interference and better performance. With so much to gain, Wi-Fi 6E is the most revolutionary Wi-Fi enhancement seen in a decade and is likely to remain so for the next decade as well!
Available Spectrum
In the U.S., the FCC has made the entire additional 1,200 MHz of spectrum available for indoor use, opening up 59 additional 20-MHz channels or 29 40-MHz channels. Among other countries that have allowed unlicensed use of the 6 GHz band, available spectrum amounts vary. For example, E.U. countries only have access to 500 MHz in the 6 GHz band, or 24 20-MHz channels, at the lower end of the spectrum (see Figure 1).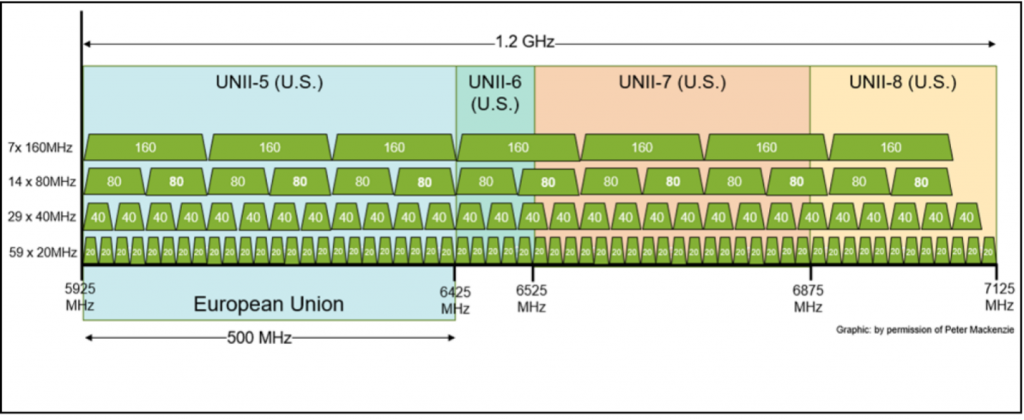 Figure 1: The 6 GHz band provides access to more channels.
Wi-Fi 6E Access Point Classes
To help protect licensed 6 GHz incumbents, Wi-Fi 6E access points (APs) for unlicensed use are categorized into three classes, with their availability varying by region and regulatory permissions:
Very low power (VLP) APs can operate indoors or outdoors and are designed for short-range mobile applications.
Low power indoor (LPI) APs are for fixed indoor use. They must be designed with permanently attached, integrated antennas and cannot have weatherized enclosures or run exclusively on battery power.
Standard power (SP) APs can operate at full power indoors or outdoors, but they must be controlled by an automatic frequency coordination (AFC) database.
The E.U. and some other regions allow outdoor use of the 6 GHz band in VLP mode, but in the U.S., only LPI mode is currently permitted. Juniper is hopeful that the FCC's recent rule changes will enable AFC-controlled SP mode in the U.S. by the second half of this year.
Considerations Before Upgrading to Wi-Fi 6E
Although the benefits of upgrading to a Wi-Fi 6E network are widely recognized, what isn't so clear is the best timing for making the shift. Before delving into this new frequency frontier, here are some factors every enterprise needs to consider.
Business requirements: When evaluating the value of upgrading to a Wi-Fi 6E network, one of the first things to consider is whether the number of devices, types of applications and overall amount of traffic on the network support the need for additional bandwidth. For example, if high network traffic is limited to specific locations, a complete network upgrade may not be necessary right away. Instead, it may be enough to add Wi-Fi 6E APs to high-congestion areas only (such as conference rooms).
Channel width: Wi-Fi 6E makes deployment of wider channels at scale more realistic for enterprises, so channel size is another factor to consider. The lower signal-to-noise ratio (SNR) that would normally occur as channel width increases is offset by new transmit power rules that limit the power spectral density (PSD) of LPI APs. Since channel bandwidth has a direct and noticeable impact on real-world speeds, wider channels will greatly improve end user experiences in bandwidth-hungry environments, provided there is enough spectrum to support them. Insufficient spectrum or an excessive number of APs will otherwise degrade user experiences. Device density should be factored in to determine if and where wider channels might make sense.
Power consumption: Wi-Fi 6E APs typically have three dedicated radios (2.4, 5 and 6 GHz), which increases their bandwidth and processing requirements. As a result, these APs consume more power and generate more heat. Network architects must ensure that the wired infrastructure will be able to support the additional power consumption and will not cause devices to overheat. Since Power over Ethernet (PoE) often provides power to Wi-Fi APs, PoE switches also must support the latest PoE standards (802.3at/802.3bt) to provide sufficient power, so enterprises may need to upgrade their access switches as part of a move to Wi-Fi 6E.
Coverage: Although the 6 GHz band has a shorter range than the 2.4 GHz and 5 GHz bands, existing capacity-based AP density in buildings with Wi-Fi 6 networks should be sufficient for Wi-Fi 6E in many environments. In greenfield deployments, however, AP density should be slightly higher to address future coverage needs. The 6 GHz band is also more susceptible to obstructions such as walls, doors, and other obstacles, so areas with concrete or brick walls may require more APs. Higher channels will be impacted more than lower channels, so it's best to plan around the requirements of the highest channels available to avoid coverage issues.
Global differences: Global enterprises must consider the variability in Wi-Fi 6E adoption among countries in which they do business (see Figure 2). Countries around the world are rapidly adopting 6 GHz for unlicensed usage.
Figure 2: Worldwide adoption of Wi-Fi 6E
Future needs: Enterprises that do not have a current use case that requires additional bandwidth may be hesitant to upgrade their network to Wi-Fi 6E. However, enterprise growth, new applications or an increase in device density could quickly change network demands. Deploying tri-band APs ensures that the network is able to handle both current and future wireless needs.
Juniper AI-Driven Solutions for Wi-Fi 6E
Juniper Networks helps enterprises successfully transition their networks to Wi-Fi 6E. Juniper's AP45 and AP34 Access Points are tri-band devices that work with Juniper Mist Cloud and Mist AI to optimize network operator and user experiences in the 6 GHz band. Both also include Juniper's capabilities, which further optimize and automate the configuration of the plethora of 802.11ax features. For external antennas, there is an AP45E which is homologated in most of the world and allows 6 GHz under normal LPI rules (except in the U.S. where Juniper offers the AP45E with 6 GHz disabled).
Watch this video to learn more about how Juniper can make it easier for enterprises to adopt Wi-Fi 6E.