The arrival of Autumn means a lot of different things here in the U.S.: back to school, the return of football, pumpkin spice everything and for many in the enterprise world, the beginning of budgeting season. Every fall, like clockwork, millions of companies add on the additional task of reviewing the past year and budgeting their investments and expenditures for the following year.
One of the new line items assured to be on many enterprise budget plans for 2024 is AI-based tools. There's never been a more exciting time to see how this technology can quickly impact productivity. But, with some budgets tightening due to macroeconomic headwinds, justifying their financial impact isn't always as simple.
At Juniper Networks, we are laser-focused on delivering world-class experiences. Through the use of AI, we can transform not only IT operations and end-user experiences but also business operations. Enterprises and service providers can gain measurable financial gains with Juniper's Mist AI solution. Factors such as faster network rollout, reduced support tickets, better business value, improved experiences and fundamentally improved network management all affect the total cost of ownership (TCO). Let's take a deeper look at some of the key benefits and their ultimate economic impact.
Rapid Deployment
Juniper Mist AI enables organizations to deploy networks faster and at a lower cost, all while minimizing errors. AP Auto-Placement and Orientation, a completely re-designed Radio Resource Management (RRM) function and true Zero Touch Provisioning (ZTP) help administrators speed their setups and configurations. Juniper's innovative technology streamlines network rollout and expansion so much that large enterprises have been able to successfully deploy up to 4,000 access points in a single day. Accelerated rollouts mean ROI is realized faster, and IT can focus on providing great user experiences.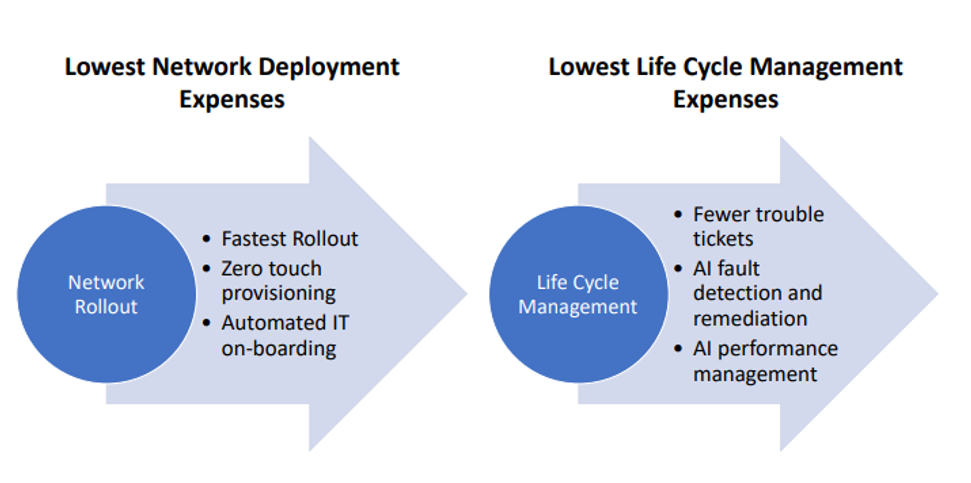 Figure 1: Mist AI lowers OpEx in Wi-Fi networks and drives digital transformation
Faster Troubleshooting
AI-driven operations can also improve the efficiency of the administrators responsible for network operations. Mist AI provides real-time insights into uptime, performance and potential issues that could impact either. It does this proactively, finding the causes of potential disruptions, often before end users are even aware of an issue. While this certainly helps reduce the resolution time, it also reduces the number of site visits necessary to address an issue. Reduced truck rolls equals reduced expenses (and emissions!).
AI can even be trained to automatically apply remediation steps to certain issues, instantly solving a problem. In fact, by eliminating 80% to 90% of trouble tickets, Mist AI significantly reduces operational overhead and drops remediation costs, resulting in significant operating expenses (OpEx) savings. But, more importantly, Mist AI frees IT teams' time for more strategic tasks that can potentially be leveraged toward revenue-generating activities.
Hardware and Management Tool Consolidation
In industries where indoor location services are widely adopted, reducing hardware sprawl and consolidating management tools are great ways to generate both Capital Expenses (CapEx) and OpEx savings. These reductions can effectively be achieved with Juniper Mist integrated and industry-leading indoor location services and Wi-Fi solutions. With Juniper Access Points (APs), the cost of physical beacons is no longer required – and maintenance of a virtual beacon is non-existent. In a greenfield deployment, Juniper Mist Indoor Location Services can be leveraged to increase personalization, drive a greater share of wallet and create improved brand value, tapping into new revenue streams and business opportunities.
Investing for the Future
So, as you sit down this autumn in a sweater with a pumpkin spice-flavored drink and begin crunching numbers and making decisions for the new year, remember that some of the smartest investment decisions you can make are solutions like Mist AI, that can provide both immediate and lasting financial improvements in your organization.
If you need additional reassurance on the value Mist AI brings, beyond delivering assured user experiences, check out this recently published TCO analysis completed by ACG Research.
With Mist AI, enterprises and service providers alike save time and money with faster problem resolution and fewer onsite visits. End-users benefit from networks that are more predictable, reliable and measurable.