As part of Juniper Networks' ongoing commitment to Experience-First Networking, we're excited to announce a significant advancement to our AI-driven Juniper Mist Wi-Fi Assurance capabilities. Our latest AIOps additions – Automatic Placement and Orientation for Juniper Mist Access Points (APs), can seamlessly place or adjust Juniper AP locations on floorplans and automatically adjust their orientations using the innovative capabilities of our location services. Powered by machine learning, Juniper directional virtual Bluetooth LE (vBLE) arrays and Mist AI, this complements and enhances the 802.11mc fine-tune measurement (FTM) based ranging.
Some may ask why AP auto-placement and orientation are needed when software vendors like Ekahau, Hamina and others already handle predictive wireless network design, placement and performance optimization? We're not looking to replace these proven wireless network design tools, but rather complement them with real-world measurements that use AI/ML to optimize AP placement and orientation. Often times the plan does not match the actual deployment, and that post deployment validation requires human intervention to verify AP placements on the floor plan. The predictive design may have figured out what the coverage looks like and identified the placement, but during the installation the APs didn't end up in the exact locations. Alternatively, there wasn't time to complete a full-scope wireless design, and the wireless network team still wants methodical help placing the APs.
Either way, errors can lead to coverage gaps, channel interference and other issues. In scenarios like this, we may not ever know a problem exists unless a site survey is conducted, which can be costly, lengthy and leave the network with sub-par performance.
What's New in Juniper Mist?
To help overcome these challenges, Juniper Mist Wi-Fi Assurance now provides two new capabilities — AP auto-placement and AP auto-orientation.
AP Auto-Placement Makes Wi-Fi Deployment Easy!
AP auto-placement identifies proper locations for Wi-Fi 6 and Wi-Fi 6E APs on a map within the Mist AI dashboard. By utilizing the capabilities in IEEE 802.11mc for Round Trip Time (RTT) and Fine Time Measurement (FTM), directional vBLE antenna arrays, and machine learning with Juniper Access Points and Mist AI Cloud, users can determine where APs are (or should be) located on the floorplan.
This simplifies new installations and audits of coverage holes in existing deployments. Customers and their users are rewarded with improved Wi-Fi coverage and performance and more accurate location services. Overall, our AP auto-placement capability provides the following benefits:
Automatically place all APs on a map to simplify Day 1 Installations
Audit existing installations and mitigate coverage issues
Minimize/Mitigate the requirements of on-site AP placement validation
Save time with placement that takes minutes, not hours or days
From the images below, you can see how the Juniper Mist Cloud can place APs automatically (Fig. 1) and validate an existing layout plan for AP positioning (Fig. 2)
Figure 1. New Install placement preview of Access Points.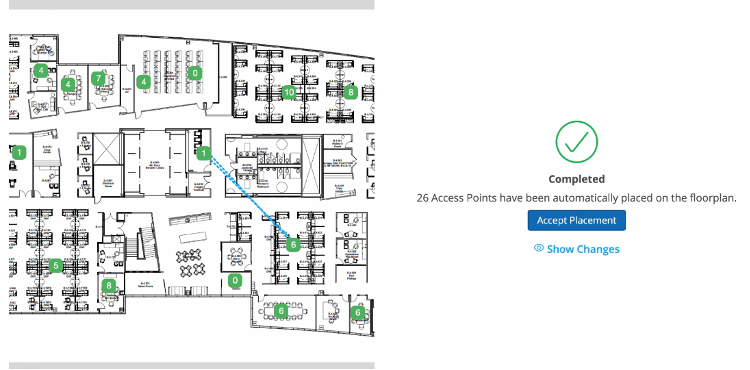 Figure 2. Existing Install AP placement checking – swapping 2 APs incorrectly placed.
AP Auto-Orientation – Optimizing Indoor Location Accuracy
AP auto-orientation helps maintain the accuracy of Juniper's indoor location services for user engagement and asset visibility. Using the APs internal vBLE antenna arrays and embedded AI/ML in Juniper Mist Cloud, Mist AI determines the AP's orientation, correcting if necessary to optimize location performance. By leveraging our AP auto-orientation function in Mist, users' benefits include:
Automatically orienting all APs on a map for more precise location services for wayfinding and asset tracking
Relative orientation determined using the AP's patented vBLE antenna array
No network performance impacts as the process is performed overnight
Continual validation and auto-correction with Marvis
Location, Location, Location
Applications like indoor wayfinding and asset visibility rely solely on positioning accuracy to track people and assets within the enterprise. Without accurate positioning of the APs, the entire location experience is at risk. Users will get lost, assets won't be where you think they are, and users will become frustrated. By validating AP placement and orientation, location services can perform at their highest accuracy and provide the best user experience.
Customers running location solutions will benefit significantly through improved absolute position accuracy and IT staff will benefit from quicker resolution of coverage gaps or channel interference. With Juniper Mist, all of this is done at scale, for an entire site. Indoor location services are becoming more prevalent and are revolutionizing the mobile user experience. End users expect high-performing wireless networks and with these new features, IT staff can troubleshoot faster and more accurately before end users even experience a problem.
What's So Special About AP Auto-Placement?
Juniper's AP auto-placement and orientation solution leverages the innovative location engine and machine learning to recommend anchors and not rely on GPS for anchor placement. Moreover, it applies to both brownfield and greenfield deployments – so whether you are looking to save time to validate a new install, or ensure your current wireless implementation is accurately represented – Auto-placement does the job for you.
Delivering Exceptional End User Experiences
Juniper keeps delivering with our AI-Driven Mist platform and our automated AP placement and orientation is no exception. Juniper's orchestration of RTT-FTM, vBLE and AI/ML algorithms for location estimation and directionality provide:
AP location accuracy of less than 2m with ≥ 90% accuracy
Ability to auto-detect errors and inconsistencies in existing brownfield deployments and auto-correct placements
Ability to auto-place and orient all APs on a map for greenfield deployments – simplifying Day 1 placement validation
Enhanced BLE-enabled location services accuracy
Patent pending location algorithms for estimating LOS & NLOS AP positioning
Overall, AP placement is an important step in ensuring that a wireless network is set up correctly and provides optimal coverage, capacity and proper location information. Juniper's automated AP placement and orientation minimizes expensive and time-consuming site surveys, measurements and IT staff efforts to set up and maintain the wireless network.
Join our weekly demos to see how you can drive better user experiences across the wired, wireless and WAN through Mist AI!
Additional Resources: