Juniper Networks announced another groundbreaking capability within its Virtual Network Assistant (VNA), Marvis, designed to address a widespread problem in many enterprise networks – bad video conferencing experiences. All too often, it's difficult to determine the root cause of dropped or pixelated calls. Is it Wi-Fi interference? WAN latency? High CPU utilization on a laptop? Or the application itself?
Combining Third-Party Labeled Data from Zoom – Marvis Learns from More User Experience!
Marvis now uses Zoom performance to help address this situation. More specifically, Marvis pulls data from both the Zoom client and the Zoom cloud, and joins it with network-specific insights to determine the root cause of a bad video experience. In addition, Marvis learns what causes poor Zoom experiences over time, allowing it to understand trends and identify anomalies for proactive and predictive root cause identification and remediation. This gives IT teams an edge in reducing the mean time to repair (MTTR) Zoom issues and, in many instances, can reduce Zoom support tickets entirely.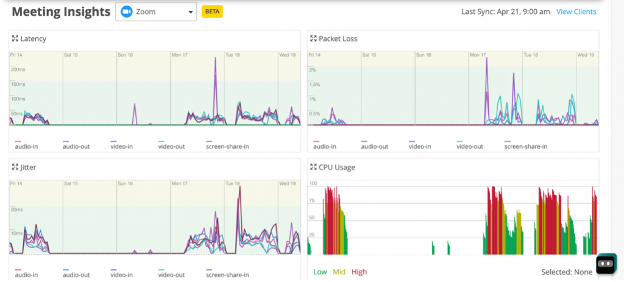 Zoom insights can be gathered using Marvis' conversational interface. For example, as shown below, users can ask Marvis to list all Zoom users and to troubleshoot a specific Zoom session. With this integration, it's never been easier to ensure video calls are running smoothly and effectively.
Juniper constantly enhances Marvis to leverage new data science tools and data sources for best user and operator experiences. Zoom, along with ChatGPT integration (see our blog), are the latest in a long history of VNA advances, dating back to Marvis' launch in 2018. By leveraging AI for automation, insight and client-to-cloud assurance, Marvis continues to set the standard in the networking industry.
Additional Resources:
P.S. We're not magicians. We're also not AI washers. Take a look behind the scenes to see how AI gets real.
Statement of Product Direction
Juniper Networks may disclose information related to development and plans for future products, features or enhancements, known as a Plan of Record ("POR").  These details provided are based on Juniper's current development efforts and plans. These development efforts and plans are subject to change at Juniper's sole discretion, without notice.  Except as may be set forth in definitive agreements, Juniper Networks provides no assurances and assumes no responsibility to introduce products, features or enhancements described in this presentation.  Purchasing decisions by third-parties should not be based on this POR and no purchases are contingent upon Juniper Networks delivering any feature or functionality depicted in this presentation.
Juniper Networks, the Juniper Networks logo, Juniper, Junos, and other trademarks listed here are registered trademarks of Juniper Networks, Inc. and/or its affiliates in the United States and other countries. Other names may be trademarks of their respective owners; Juniper Networks' use hereof does not imply an affiliation with, or endorsement by, the owners of these trademarks or logos.