Service providers have a strategic advantage in the emerging edge cloud ecosystem. Will they choose to use it?
Edge computing looks to be one of the most exciting technology trends for service providers and their enterprise and consumer customers. By positioning advanced cloud capabilities at the edge of their networks, service providers can deliver a world of new applications and use cases much closer to those that consume them. They can unlock lucrative new revenue streams and position themselves to play a much bigger role in the ecosystem for enterprise IT and over-the-top (OTT) services.
That is, if they want to. In some cases, operators are entering into exclusive partnerships with hyperscale cloud operators, letting the biggest names in public cloud handle the heavy lifting at the edge. These partnerships certainly offer a quick, easy way to monetize edge networks. But, by ceding the edge to OTT cloud players, service providers risk eroding their ability to deliver unique, differentiated value to their customers as well as the customer relationships and the brand equity they have developed.
There's nothing wrong with adopting managed edge cloud solutions. They're the fastest, easiest way to launch new edge services. But, if operators want a more prominent role in the emerging edge value chain, they should look to create public cloud-neutral edge services.
As a longtime advocate of openness in service provider networks, Juniper Networks is taking concrete steps to make this model possible. We've made a major financial investment in StackPath, a leading provider of content delivery network (CDN) and other edge cloud services. Together, we can help service providers quickly and easily launch new edge services and monetize their networks in a cloud-agnostic way.
What's driving the edge opportunity?
Service providers—and their customers—are entering a new era in edge services that will be dominated by cloud, 5G networks and artificial intelligence. This "Cloud + 5G + AI Era" places huge new demands on service provider edge networks. Among other things, operators will need to contend with:
Massive growth in Internet of Things (IoT) endpoints—projected to reach 25 billion connections by 2021
An explosion of mobile video streaming and gaming platforms and their associated heavy data transfers at the edge
New gaming and augmented reality experiences, which drive a need for huge increases in edge capacity, local compute and ultra-low latencies (ULL)
Service providers can't meet these requirements without more flexible, intelligent edge networks. At the same time, those that can evolve their edge capabilities to meet these demands have an opportunity to launch lucrative new business opportunities in both the short and long term.
Cloud providers look to expand their presence at the edge
For all these reasons, operators in every market are looking to build out new edge capabilities and enterprise offers. However, launching new edge cloud services—integrating all the different technology building blocks and deploying and managing them across thousands of remote sites—is complex. Doing it themselves requires significant investment in people, processes and technology, often with long delays before operators can bring new edge offers to customers.
The big public cloud companies (Google, Amazon and Microsoft) have stepped in to meet this need, offering managed edge cloud solutions that can be rolled out very quickly. However, the approach some operators are contemplating—signing onto exclusive partnerships with one cloud provider—can have significant drawbacks.
First, under this model, the public cloud provider "owns" the edge applications, which are tightly integrated with their proprietary platforms. Similarly, they now own the customer experience—minimizing the visibility of the operator and, potentially, eroding their value in the edge application ecosystem. Going with one public cloud provider also eliminates access to competing application ecosystems. As the edge cloud market evolves, this could limit the choices operators can bring to their customers and, potentially, the revenues they can generate from them.
A better path forward: the cloud-neutral edge
Using prepackaged managed offers can help service providers bring new edge compute models to their customers much more quickly and easily than trying to build out those capabilities on their own. But that doesn't have to mean "losing their edge" to hyperscale cloud operators. A better alternative for many operators is to choose managed edge offers that are public cloud-agnostic.
By using prepackaged edge solutions that aren't biased toward one cloud provider or another, operators get all the benefits of a managed edge offering: fast time-to-market, reduced management complexity and the ability to avoid huge upfront capital investments. At the same time, they preserve their customer relationships and unique value in the edge ecosystem.
For these reasons, we expect to see cloud-neutral edge ecosystems rapidly emerge in the coming years, combining open, cloud-native software platforms with published APIs. Juniper is taking steps to seed this ecosystem today through our recent investment in and partnership with StackPath.
Envisioning a cloud-neutral managed edge
StackPath is a global leader in building and operating distributed edge cloud services. The company operates a global high-speed backbone network spanning 45 edge cloud locations, bringing 65 Tbps of capacity to the world's highest-density regions. StackPath also has a strong customer base across media, gaming, software-as-a-service and other industries looking to bring CDN, security, compute and storage services closer to end-users.
By joining forces with StackPath, Juniper will bring network operators fully managed, cloud-neutral edge cloud Point Of Delivery (POD) units. These pre-packaged edge cloud PODs will combine Juniper hardware and software with StackPath's cloud operations platform, established business partnerships and cloud-scale expertise.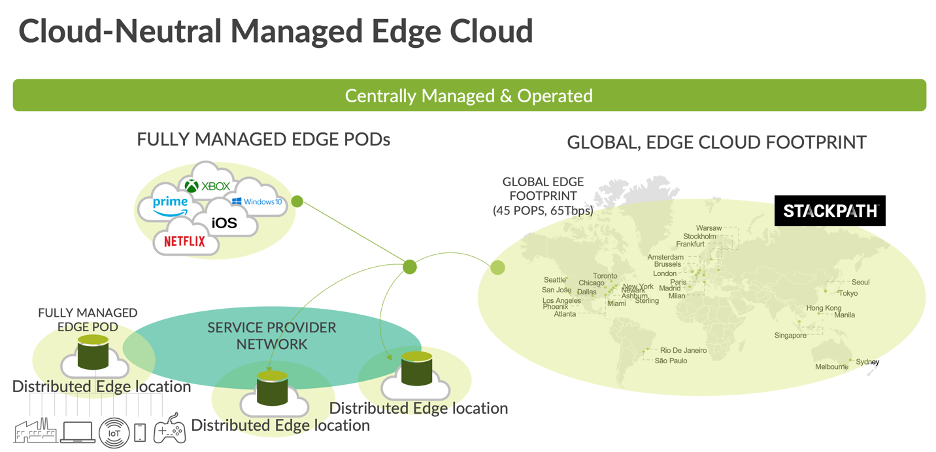 By enabling a cloud-neutral managed edge, Juniper and StackPath can help operators achieve the same fast time to market, low startup costs and management simplicity on a proven architecture they would get with one of the hyperscale cloud provider solutions—without the risk of value erosion. Together, we can enable service providers to unleash a new generation of edge cloud applications and a new value chain of edge business models, with service providers positioned right where they should be: squarely in the middle, with value monetization under their control.