OpenShift, Red Hat's flagship container orchestration platform, is an industry heavyweight at the center of many DevOps organizations. However, the performance and security demands of SLA-stringent workloads for telco, gaming, finance and other industries have outpaced off-the-shelf and often open-sourced CNI solutions. Daunted by integration complexity and the threat of destabilization, organizations often defer the adoption of scalable, SDN-controlled alternatives, until now.
Today, Juniper Networks is excited to announce that CN2, Juniper's premier cloud-native SDN/CNI solution, has achieved OpenShift certification. This achievement is a testament to the effort and sustained commitment of Juniper and Red Hat to deliver a high performance and high quality cloud environment. Using the Kubernetes End-to-End test suite, CN2 has been tested, measured and qualified with OpenShift to ensure tight integration for platform stability. With CN2, OpenShift customers now have a scalable, secure, multicluster networking alternative at their fingertips.
Automated, OpenShift-Native CN2 Deployment
Certified and feature rich DevOps teams may remain hesitant to replace a challenged CNI with CN2. Orchestration platforms like OpenShift are at the heart of the operational model, so infrastructure changes are approached with caution. Those who have sat on the business end of a keyboard on a Friday night troubleshooting a misconfigured K8s security policy or a simple update that wasn't so simple can appreciate the hesitation.
To automate the experience, the CN2 operator, which provides a simple and reliable way to install and manage the SDN, has been integrated into the OpenShift Assisted Installer. Operated from the Red Hat Hybrid Cloud Console, the Assisted Installer simplifies the installation of OpenShift on the compute and storage nodes. By integrating into the Assisted Installer, the CN2 installation becomes a part of the initial cluster deployment, reducing setup time and management of separate operators and installation processes. For those with offline, bare metal infrastructure in isolated networks, alternative disconnected installs are supported as well.
Comprehensive, Feature-Rich Cloud Networking
While CN2 is not the first or only CNI to be OpenShift certified, it's the most scalable and feature-rich SDN solution available for OpenShift today. Per the table below, certification is critical as a measure of conformance, but it's not a measure of feature richness or capabilities. As the only solution with Assisted Installer integration, customers can confidently deploy with a joint Juniper and Red Hat solution that provides simplicity and reliability, while avoiding interoperability and security risks. In effect, CN2 is an OpenShift-native SDN solution.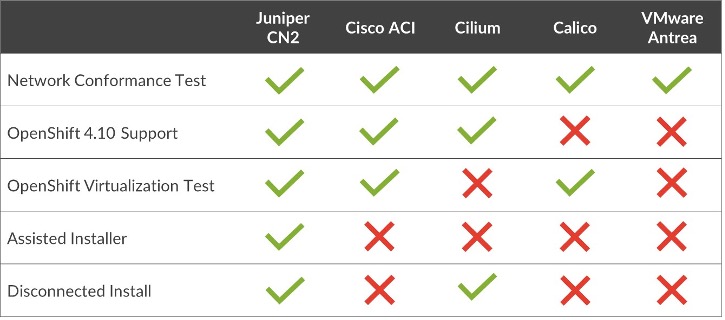 To learn more about CN2 and our OpenShift certification, visit the CN2 product page, view the documentation and test drive CN2 with our Free Trial or through our Juniper Cloud Labs hosted lab and learning experience.