It's human nature to choose the path of least resistance, as we're most comfortable with what we already know. Take the example of, "No one ever got fired for buying Cisco." But there comes a point in time when inaction becomes the greatest risk of all. Market transitions are real, and every product has a life cycle. Understanding these transitions and a vendor's product strategy is just as important—or sometimes more important—than selecting a specific company. After all, the network that you purchase, install and operate should be a platform that is built to last.
And many are taking notice that there is a new safe choice in networking—Juniper Networks, driven by Mist AI.
The industry is embracing networks focused on user experiences and self-driving automation over networks riddled with complexity and manual management of the network elements themselves. We intentionally set our sights on building out a cloud-first, microservices-based AI-driven solution to reimagine how networks are managed and operated and pivoted to an Experience First network.
Let's explore what a safe choice in the network for the next decade looks like:
User experience from client-to-cloud – It's not about network uptime, it's about the user's experience on the network. The network being up is not a good enough measure, rather, "Is the user happy?" is the new way to measure network quality. This must span from client-to-cloud—across the user's device, WLAN, LAN, WAN and into the cloud.
Cloud-first and cloud-native agility – The network must be agile with weekly production pushes. A vendor that forgoes the advantages and advancements of the cloud is not going forward. Solutions requiring heavy on-premises controllers are designed by old-school architectures whose maintenance and upgrades are cumbersome and ridden with IT burden. User demands, application usage and device requirements require an agile network with limited user disruption or downtime. A microservices cloud architecture prevents a network from going anywhere from six months to one year without being upgraded with new functionality. The network has to move at the speed of the user's demands and only a cloud-native network enables that.
AI-driven IT operations – AI should be integral to the system, not a bolt-on tool or a "We have it as well!" feature. By truly embracing AI for IT operations, this technology can drive significant IT efficiencies in operations for deployment times, a smaller number of helpdesk tickets and a reduction in mean-time to resolution. Real AI should yield at least a 50% reduction in these areas.
A self-driving network built on robust automation – Fix network issues without IT intervention. The network of the next decade is built for self-driving to fix issues proactively and automatically with a virtual network assistant, increasing the efficiency and accuracy of issue resolution. Open standards and APIs will also stand front and center to provide the flexibility needed to build the network for the next decade.
AI-driven Support – Customer support the same old way will result in the same old experience, so it's time to flip it upside down and inside out. This means, for the network of the next decade, that the support model has to be AI-driven. Support tickets shall start with experts, hardware RMAs shall be automatic and teams shall shift from reactive to proactive.
A Threat-Aware Network – Optimized user experience isn't enough. Those experiences — everything from how users access data and applications, to how network connections are made – must be secured. Security must be invisible to end-users, operationally efficient for IT teams to maintain and provide effective threat prevention. This can only be achieved when security is built into the same network infrastructure that provides connectivity and extended across every point of connection on the network.
If any of the points above resonate as key criteria in choosing a NEW safe choice for the future, then Juniper Networks is the way to go. But it goes beyond what we have to say. Just look at some of the proof points from analysts and customers:
A Leader in Wired and Wireless LAN Access Infrastructure
Gartner has positioned Juniper Networks as a Leader in the 2020 Gartner Magic Quadrant for Wired and Wireless LAN Access Infrastructure. Additionally, Juniper placed the highest in ability to execute within the Leaders' Quadrant. We believe this Leader placement is a recognition by our customers and analysts that we're successfully executing on the AI-driven enterprise vision.
Around the same time that the Magic Quadrant published, Juniper also completed a record Q3 2020 quarter in the wired/wireless access space with:
100% YoY growth in new wireless logos
180% YoY growth in wireless bookings
19% YoY growth in campus and branch switching revenue (compared to negative growth for most of the industry)
A Gartner Peer Insights Customers' Choice
When it comes to decision making, research is a key element of that process. For this, look to Gartner Peer Insights to get a pulse on where your peers stand. We are proud that Juniper Networks is a 2020 Gartner Peer Insights Customers' Choice for Wired and Wireless LAN Access Infrastructure. As of January 6, 2021, Juniper Networks has an overall rating of 4.9/5 in the Wired and Wireless LAN Access Infrastructure market, based on 178 reviews.
See what some have shared:
"From the start of the POC through to the beginning of the deployment, despite it being a new set of equipment from a new manufacturer and working with a new team, the solution always felt "right." – Senior Systems Programmer, Government Industry
"The EX series switches just work. They have been bulletproof edge switches, they have been solid top of rack switches, and we have used them for routers." – Systems Engineer, Education Industry
"Juniper/Mist has allowed us to modernize our wired and wireless network while operating with a small team of dedicated network engineers. The installation and transition has been smooth and the outcome has been an improved experience for our students, faculty, and staff."  – AssocVP and CTO in Education Industry
Customer Momentum
Our customers are the heart and soul of what we do, so we're honored to be a partner in achieving their goals and being a part of their success. That's why 4 of the Fortune 10 (plus 1 Global 10), 25+ of the Fortune 500 and 10 of the top 50 retailers have chosen Juniper for their networks. Real AI delivers real networking results.
From webinars with Walmart Global Tech and Dartmouth College on Wi-Fi best practices and AIOps implementations to leaders from MIT, Dartmouth and UT Arlington coming together to  discuss student safety with contact tracing, we're transforming the IT landscape. Together.
The Industry's Only AI-Driven Support
Marvis VNA is the only AI/ML engine to answer every support ticket that comes into the system. To pull this off, our customer support team is tied at the hip with our data science team and reviews every support ticket that Marvis was unable to answer. This efficacy feedback loop is used to train Marvis and increase its efficacy rate as part of a true Self-driving Network™. It also helps our customers build their trust in Marvis as they are able to provide feedback on whether the problem was correctly identified.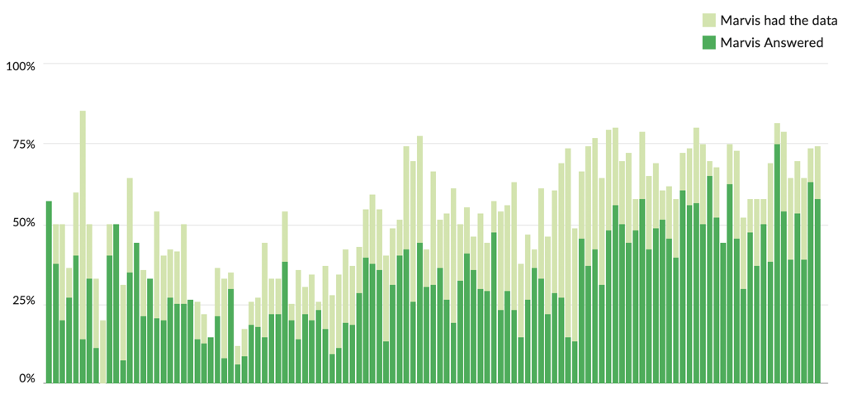 The image above illustrates our end-to-end customer success over the past two years, showing that over 65% of support tickets can be answered by Marvis. As a digital extension of the team, it makes the support engineer's job quicker and easier if they start off with the right set of data. And with additional AI models to be introduced in 2021, that efficacy rate is expected to reach 75-80%. As networks become more critical, AI-driven support will only grow in importance.
There's a lot happening here, but these proof points all flow into a common theme: Juniper is standing front and center to be a partner in building out the network for the next decade. The tide is quickly turning—a traditional "safe" choice suddenly doesn't look so promising anymore… so maybe it's time to reconsider the new safe choice in networking with Juniper Networks, driven by Mist AI.
Gartner Magic Quadrant for Wired and Wireless LAN Access Infrastructure, Bill Menezes, Christian Canales, Tim Zimmerman, Mike Toussaint, 4 November 2020.
Gartner does not endorse any vendor, product or service depicted in its research publications, and does not advise technology users to select only those vendors with the highest ratings or other designation. Gartner research publications consist of the opinions of Gartner's research organization and should not be construed as statements of fact. Gartner disclaims all warranties, expressed or implied, with respect to this research, including any warranties of merchantability or fitness for a particular purpose.
Gartner Peer Insights Customers' Choice distinctions are determined by the subjective opinions of individual end-user customers based on their own experiences, the number of published reviews on Gartner Peer Insights and overall ratings for a given vendor in the market, as further described here, and are not intended in any way to represent the views of Gartner or its affiliates.