For many organizations, the data center is the mission-critical, central nervous system and heart of their business. Why do the world's cloud providers, service providers and technology providers trust Juniper Networks to connect theirs? Because we know what the data center of tomorrow must look like and we give customers the tools to start building it today, while at the same time, futureproofing it for what's next.
Today, we're thrilled to introduce the latest addition to our data center networking portfolio: the Juniper Networks® QFX5700 Series Switch. It's the industry's first midsize chassis-based system on Broadcom Trident 4 programmable merchant silicon delivering 25.6 Tbps of bidirectional bandwidth. And it's the most flexible midsize platform on the market, with the ability to mix and match line cards with a range of interface options from 10G all the way up to 400G to support diverse use cases.
Even more important though, the QFX5700 provides a new option for enterprises, service providers and cloud providers to bring experience-first networking to more parts of the data center environment. It's the latest step in the journey to reimagine the data center with agile, intent-based operations.
Rethinking Data Center Operations   
By now, we're all familiar with the trends driving the need for more powerful and cost-efficient data center networks: more traffic, more distributed applications, more diverse and dynamic workloads across more clouds. So, when a new platform like the QFX5700 is released and offers the flexibility to bring increased capacity to more use cases, that alone is a big deal. But the reality is, businesses need much more than simply speeds and feeds. It's not about how many bits can be pushed per second. It's about the experience that's delivered to network operators and, ultimately, end users. And that's where Juniper's data center leadership and the commitment to experience-first networking really stands out.
As said before, one of the biggest tasks this industry faces is the need to reorient thinking away from "networks," a noun, and toward "networking," an active verb defined by people, processes and tools. If organizations are still thinking about data centers in the language of connectivity, that's missing the larger story. The experience delivered is much more a function of the way the environment is operated than any piece of technology connected to it. Operations then, and everything that goes into it, can't be just one more bullet on a data sheet. Operations must be the core criterion guiding every design decision the business makes.
That's why Juniper isn't just focused on delivering high-performance platforms with flexible interface options. Juniper is evolving its solution portfolio around the Apstra intelligence with the goal of connecting the elements of the data center into an intent-based, self-driving system. Since the acquisition of Apstra, Juniper has added 50+ new logos and tripled global presence (by country), with 6 of Fortune top 10 purchasing the Juniper data center solution, in the first half of 2021. And in the last quarter alone, Juniper's data center business was up 28% year over year.
Automation for Consistency & Reliability in Multi-Vendor Environments
With Apstra, we're helping customers go far beyond what other vendors call "automation"—that is, automating a series of procedural steps to perform a given task faster. This may generate "speed" in a narrow sense, but true business agility is built on the foundation of consistency and reliability. Using Apstra blueprints, customers are building operations frameworks, often in multivendor environments, and in a repeatable way, that can identify when a task needs to be invoked, how it should best be executed and whether it accomplished the desired intent. Customers are using automation to make the right decision at the right time to achieve the best outcome—whether that's quality of experience for a given application, security, reachability, compliance or another business-level imperative. Juniper is enabling an experience-driven operations model where humans can focus on what they want to happen, instead of mastering the syntax needed to make it so.
What does intent-based data center operations look like? It's a data center that automatically translates business-level decisions into network configurations across complex and dynamic multi-vendor environments where an operations mindset must start with Day 0 design and continue through Day 2+. It's where the system doesn't merely translate commands into backend API calls, but constantly models network state, checks against that state, collects rich telemetry and proactively alerts human operators when an issue may be brewing. It's a framework that pulls people out of the weeds and into the business.
That's the intent-based automation Juniper is helping businesses build. And with the QFX5700, customers can now extend that intelligence to more places, in more ways, to address a broader set of use cases.
Inside the QFX5700 Switch
The new QFX5700 Switch brings Apstra intent-based networking to new parts of the data center and more. It extends Juniper's global leadership in 400G, giving customers more options to address more diverse and growing application needs. And with options for 10G/25G/40G/50G, 100G, 200G and 400G line cards supporting a variety of interfaces—all available with inline MACsec/IPsec—the QFX5700 enables a "scale-as-you-grow" IP fabric that delivers the right mix of price and performance today and into the future.
This modular, high-density, 5RU platform extends Juniper's leading QFX Series Switches in a midsize chassis with native ports. It combines Broadcom's Trident 4 chipset with the latest evolution of the industry's preferred network operating system, Junos Evolved. And it's the only midsize system in the market today that offers a rich selection of port speeds for spine, leaf, interconnect and campus use cases, with the ability to connect a diverse mix of device types and profiles.
With the QFX5700, customers can:
Reimagine operations with intent-based automation, extending rich telemetry and Apstra intelligence to more parts of the data center environment
Seamlessly migrate to 100G/400G with a system that cost-effectively meets customers' needs today and can continually scale as they grow
Achieve superior cost-efficiency with a merchant silicon-based system that delivers lower cost-per-bit and power savings
Deliver nonstop performance with a modular design and native Linux OS that lets customers upgrade or restart individual components independently, while the system remains online
Support diverse use cases, vendors and customer requirements with a solution that uses open APIs and standards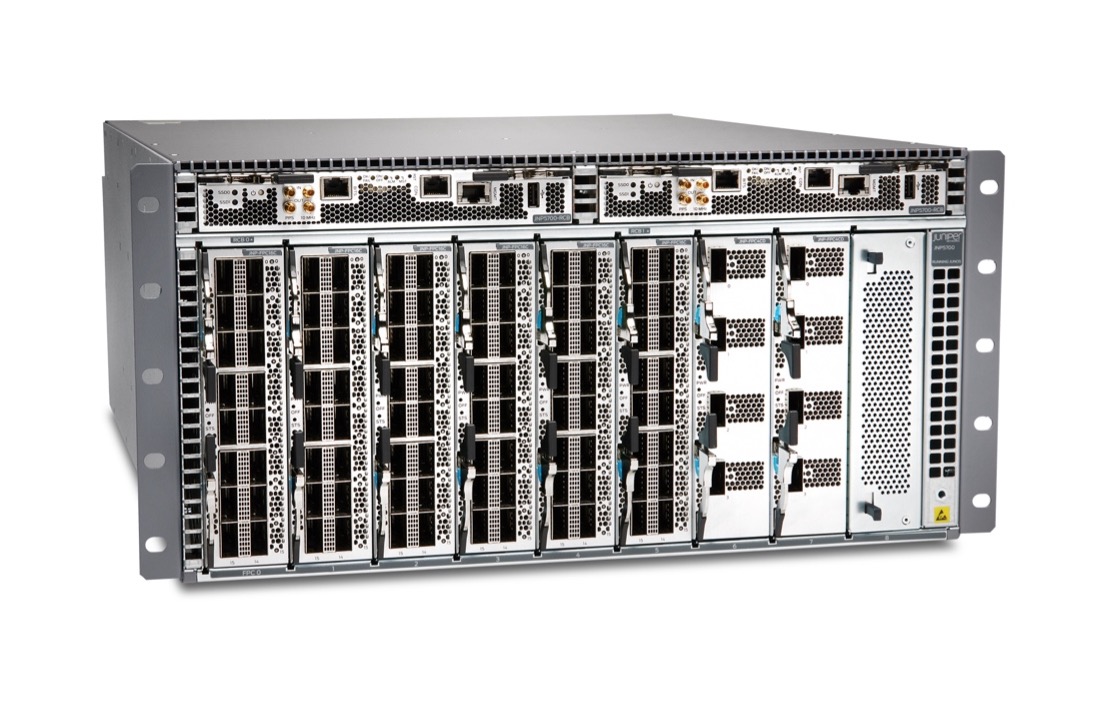 Experience-Driven Networking for a Data-Driven World
It can be hard enough to keep up with the non-stop demands of today's applications and customers, much less worry about tomorrow. With Juniper, customers don't have to choose. Juniper is here to help enterprises, service providers and cloud providers around the globe who are rewriting the rules for operations in the largest, most demanding environments. With Juniper, organizations can build a data center that focuses on the business, instead of the business of infrastructure.
Click here to start transforming data center operations with the QFX5700.