On March 4, 2021, Juniper Threat Labs identified a surge of activity of the Sysrv botnet. The botnet spread itself into Windows and Linux systems by exploiting multiple vulnerabilities, which we will cover in this blog. The threat actor's objective is to install a Monero cryptominer. The attack remains active. Here's what we've seen so far.
Sysrv Botnet Development
Juniper Threat Labs monitored the Sysrv botnet since December of 2020. At that time, it used two mining pools, minexmr and f2pool. It also used multi-component malware wherein the worm binary is installed as sysrv (sysrv.exe on Windows) and the miner binary as network01 (network01.exe on Windows). In February 2021, we saw the botnet remove the minexmr mining pool and only use f2pool.
Then, in March 2021, Juniper Threat Labs noticed a significant uptick in activity, as recorded by our sensors. In addition to incorporating more exploits, the botnet now combines the worm and the miner into a single binary. Our researchers believe the threat actor will have better control and management with a single binary as the binary is constantly updated. Sysrv also added nanopool as a new mining pool. We also identified new development in the loader script where it tries to add ssh keys to infected system. We believe this is a way for the threat actor to gain more persistence and may lead to more sophisticated attacks.
Bundled Exploits
Based on our findings, the attack surged on March 4, 2021 and we identified six vulnerabilities actively exploited with a payload, including:
Mongo Express RCE (CVE-2019-10758)
XXL-JOB Unauth RCE
XML-RPC (CVE-2017-11610)
CVE-2020-16846 (Saltstack RCE)
ThinkPHP RCE
CVE-2018-7600 (Drupal Ajax RCE)
Mongo-Express RCE (CVE-2019-10758)
The attack we've seen so far specifically targets port 8081, which affects a web based MongoDB admin interface known as "Mongo-Express". Mongo-Express is a web-based admin interface used to manage MongoDB databases. Exploiting this interface could allow the attacker to gain access to the MongoDB databases. As of this writing, there are 847 public IPs in Shodan.io that are hosting this service.
XXL-JOB Unauth RCE
This attack targets vulnerability in XXL-Job, a lightweight distributed task scheduling framework. It allows users to schedule tasks like cron jobs via a web interface. According to the authors, this framework has been adopted by many companies in China. From Shodan, we've enumerated 35 public IPs with this service, almost all of them in China.
XML-RPC (CVE-2017-11610)
This vulnerability affects "Supervisor", a web interface to manage processes on UNIX systems. A specially crafted XML-RPC request could allow code execution on a vulnerable server.
Saltstack RCE (CVE-2020-16846)
This vulnerability affects systems running Salt-API, an interface on top of Salt that provides multiple entry points to the Salt system.
"This CVE affects any users running the Salt API. An unauthenticated user with network access to the Salt API can use shell injections to run code on the Salt-API using the SSH client."
-https://saltproject.io/on-november-3-2020-saltstack-publicly-disclosed-three-new-cves/

ThinkPHP RCE
ThinkPHP is another PHP framework that is widely exploited by Sysrv. A quick search on Shodan shows there are more than 35,000 public IPs deploying this service. Most of them are in China.
Drupal Ajax RCE (CVE-2018-7600)
This vulnerability, aka "Drupalgeddon", affects Drupal, a widely used CMS similar to WordPress. This vulnerability is relatively old but we still see many threat actors using this vulnerability.
Sysrv Botnet Payload
When a system is infected and becomes a bot, the bot has two functions. The first is to spread and infect more bots and the second is to mine for Monero cryptocurrency. A bot spreads itself by attacking random public IPs using the exploits we have listed above. The exploit's payload is to download a loader script from a hard-coded IP or domain via wget, curl or powershell. The name of the script is either ldr.sh or ldr.ps1.
The loader script will then download the worm and miner binary from an IP hardcoded on the loader script.
The binary payload has a Linux and Windows version. It is a 64-bit Go binary which is then packed with UPX.
Cryptomining Worm
The cryptomining worm spreads by scanning vulnerable systems on the internet. It uses multiple exploits we have listed above. Based on the binaries we have seen and the time when we have seen them, we found that the threat actor is constantly updating its exploit arsenal. The latest addition includes an exploit targeting Laravel software, an open-source PHP web framework.
Inside the binary, we found the exploits it used to spread.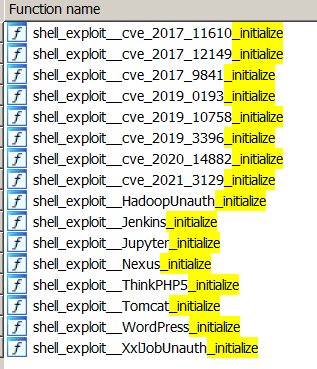 Exploits include:
| | |
| --- | --- |
| Exploit | Software |
| CVE-2021-3129 | Laravel |
| CVE-2020-14882 | Oracle Weblogic |
| CVE-2019-3396 | Widget Connector macro in Atlassian Confluence Server |
| CVE-2019-10758 | Mongo Express |
| CVE-2019-0193 | Apache Solr |
| CVE-2017-9841 | PHPUnit |
| CVE-2017-12149 | Jboss Application Server |
| CVE-2017-11610 | Supervisor (XML-RPC) |
| Apache Hadoop Unauthenticated Command Execution via YARN ResourceManager (No CVE) | Apache Hadoop |
| Brute force Jenkins | Jenkins |
| Jupyter Notebook Command Execution (No CVE) | Jupyter Notebook Server |
| CVE-2019-7238 | Sonatype Nexus Repository Manager |
| Tomcat Manager Unauth Upload Command Execution (No CVE) | Tomcat Manager |
| WordPress Bruteforce | WordPress |
XMRig Miner
The second component of the payload is a cryptominer that mines Monero. In the early malware samples, the miner is in a separate binary. In later samples, the miner component is merged with the worm into a single binary. The miner is a version of XMRig which mines for the following mining pools:
Xmr-eu1.nanopool.org:14444
f2pool.com:13531
minexmr.com:5555
As of poolwatch.io, these pools are three of the top four Monero mining pools. Combined together, they almost have 50% of the network hash rate. The threat actor's criteria appears to be top mining pools with high reward rates.
The profit from mining is saved into the following wallet address:
49dnvYkWkZNPrDj3KF8fR1BHLBfiVArU6Hu61N9gtrZWgbRptntwht5JUrXX1ZeofwPwC6fXNxPZfGjNEChXttwWE3WGURa
How profitable is this miner?
Looking at Nanopool, this wallet gained 8 XMR (~1,700 USD) from March 1 to March 28. It appears to be ramping up recently at a pace of 1 XMR per 2 days.
From f2pool, this wallet gained 10XMR from December 2020 to March 2021 (2,000 USD).
Mitigation
Juniper Advanced Threat Protection (ATP) Cloud  detects the binary payloads as follows.
Indicators of Compromise
| | |
| --- | --- |
| Sha256, ip, URL, domain | Type |
| 8223164dd8e2c7d6b2f0da63639186564335ba6a1bfc11cf31493d5c48f3abaf | linux binary |
| 9b2023a0e22f22860a7a46a67c9eba2c4831db66244603fd961fbb5c38b55272 | linux binary |
| ba46915f06d99c4dbb9d07767a86e979893f46333a8a93fce6e040452dfc1155 | linux binary |
| 3ea2df69b99f78fc0768ecf8190293f2b277b6de6e7b8e668f40b8a4910df17c | linux binary |
| 2d5de0dfa05c2a2649a4537b3f935f3ab2c029eeb3a07ab33592611388c845aa | linux binary |
| d42090b274d285e759de296239bd7b8e5d97270b2d2ae189aed80e68ba82b591 | linux binary |
| e627aff93c1e095786b5a5248425ec62c1ea8b049d487cfa6e9cfdf2a0ddbd7b | linux binary |
| bf2c450d4d3519de51fbd31def04a0e6786e13a568ddefcaa62d812cc72ffc4c | linux binary |
| 1dd2c66843fcf5512b4dda518c2d5010edf06ab701f0380777b1b305ce9c98b0 | linux binary |
| a999d7f95af4084b1e4276ee329e9b466c4d88a14cfc87007587d18a4a6c9f8a | linux binary |
| 7a546057a47ee02f6436e51d6d61f1b63c525307f9b5076a8edfe2cf4ae68769 | linux binary |
| 6750e584ad0c21588e0add09c6ebe0cc9affe1673ac848b1761359170cf08bb7 | linux binary |
| 5f5d599d4d0f9149440a6f813c6db3759d4fdbf7abe991c3af3aa59dc8c4027f | linux binary |
| 72483800c412e2204731b12c9d8fff1bc84f7af8f0b258299bb4f091a57ab23a | linux binary |
| 9c9b7da616239290db831a9305e1a46d45c112c761deaea5ed4c36aea7433891 | linux binary |
| beaa0639a67f7fc7937a100f01a550ecb8c8b608251f4d02a97d9a0a15de1304 | linux binary |
| 7ff5f2b3145d1e54a84f5bcc13ae6838baac2d6c20951d19608166833753d96f | linux binary |
| 1c91ed47c3c0baa74fa15c9b02330701dd02fc1e9b44963e1fe9a650ef7b78ef | linux binary |
| 296d3d3ed5feeda7f6d99adc9da2566cb6c460194066acccac941a7b09bedfc3 | linux binary |
| 848ed7e90c767e7ab2b1a93f9b8ca9c41eb02c3c76bf8b7dfd806fe26c1f431e | linux binary |
| 4fd37fa6ccf027e11409e3ca3b8109b2830cb3d7842303e67e6d0c087ae1b419 | linux binary |
| 22ef90a2b3c23d3c890358fff4ec1210e4ceaaf46d8bef525294151b0e88ce15 | linux binary |
| 77a9f3d4f498c8a84e09c89fd75d98eea31954cc17d948b876c00c638c95a7b6 | linux binary |
| 5208cda8463eee0ac2cf0273dcd4036aa1e2be0de2c45b4ffd71e4c92bac3f2b | linux binary |
| 18a877f11f2ba2d7ae05ee8644a5cbd687282df4010dd0cb7680aec2e00d98ce | linux binary |
| f487b23309808e468889baf10c852284b7833b8ac06fd405d1b19abafc8e17fb | linux binary |
| 0c13b3528088c308ac28971fba93939c66da2eabef66a4d3790c0b1817221535 | linux binary |
| dd31b774397c6e22375d4f2fe26e38e82ae164bc73cf58314b18b8eed26802f0 | linux binary |
| bcb02047374196acdf0285a656a8d378cecd6115c403d0bc9f743b4e3ffd6fed | linux binary |
| 1384790107a5f200cab9593a39d1c80136762b58d22d9b3f081c91d99e5d0376 | linux binary |
| dd5b4de5a1c68aad5a2efb08db55cb3e09f8ddffc19c95c1ecf9d06c6edf2d40 | linux binary |
| 9d85b4e7202521d435a871b7de5f8affd30603687cf6e6f39f1420e9223b2bea | linux binary |
| 8353823b0dc71e1feec1a2ba5e509966d5dae7f5105489c1e628baa73b314d76 | linux binary |
| be8d067e762c5da8e616f62e882881b82c8627943bdf006e304fd9a4f784763f | windows executable |
| 588b0838cc4c0fc64bfc1e5eeab2c9a59248e4e28a859ecbbac6bfe88bda703d | windows executable |
| 5c902be344f9e089e60c36bbe3345fb5bd9c3c0b4cec349a6bb18da7faef0908 | windows executable |
| 98e10d9c5bfd7a26ff3eb68d232109b6fbe0b0ec39f763f574301fb55e52a067 | windows executable |
| 0f02a4180528a850cf24310f2e88c365695e35adbe6ba023288283599348b16d | windows executable |
| d8336694afc213433470e9481de2f5d3f57dbeaf5763f62d137be103f63c45dc | windows executable |
| 9fd4fbab33dbedf48706096ab4ae19e25648f33d2e9fba62118fea726c918848 | windows executable |
| e51e35ce9737838d1a26be7285ba78a137d11c6725382944f34bde86f16cc893 | windows executable |
| 8d0585970d1f6996ee8a034ee1f482bb0df32599e618312c0830e2fb04b6af5a | windows executable |
| 064869b60b9cdb2b39daa30280770e63d9151fe3cc9f6db3813953cd71bdba8f | windows executable |
| 4a588b7f30c91dd5603ffb0ea48cbd9f589f44b7fcb980b9bb9959d87dd344ad | windows executable |
| 15e0b4302902a425dcd0476a60a0d96a17c5a6cdd9fe13c2d09c5055e48178e4 | windows executable |
| c75c47694c5affa6c7eb4259ec3e4f29c740872305229b271e57bd90816e86b6 | ldr.sh |
| b7e06689bde2614505a70cd0b4be24688be78d05057a134cc3f16919763bf65f | ldr.sh |
| 41abb26f7c6dbc59ed4fc9f323211b4d422937700d866a7c5d12625f85fe6be6 | ldr.sh |
| a41f2f0d431e750e911fc8f70c8b764f141f19fef2e6b0b70192d502d59ae39a | ldr.sh |
| c07838598435a26f658654db4ce816914e6cfe70056382471362407d6093e1fa | ldr.sh |
| f674e83e44bbb3ddf76c3622b9b8b0be16edf60f4021a91b5959e528684c481f | ldr.sh |
| af279402867f3ef8d9e8bacde3aff359b1c6f3f2d581b914f12cb9d914199a0d | ldr.sh |
| 58d96898ae28a806c8056799d703cad8a5bac95772458512395f77b8b6f73585 | ldr.sh |
| 6cab9f43cf738ba5ca9fb519f898f6ae10b11391d76191c395fe2c5bcbe5c100 | ldr.sh |
| 6a77d927c3e749c92b3f8847804c0de509050ad24aaf72519314df9226c3acb0 | ldr.sh |
| 2d1b6deaccca69f67a6a207ecebb0010e62cd4d87298374c957236c78606f62e | ldr.sh |
| 0783a9793100e6a32b21183239f955989c8901d18260092309efae91ccc075da | ldr.sh |
| 30c3965452d35eab07243e2b193a3de678c1be6719753ed00b164785ae57ea98 | ldr.sh |
| 03e1806272242fae788c8728bc5796482890601839c0c5012855424ce253c95d | ldr.sh |
| b480b65704fb998bafa8893221e691daa906a80206196eda1ac3c0cdcc5c1c49 | ldr.sh |
| 774fad3fd2c7add5842b58c1127b9061d38027debcd3917910a8ec6b6aec9d08 | ldr.sh |
| 472fa4d13d8d71762af7fe5d574ad0d7c7c2983d228fd0944f0ee706e5b9d551 | ldr.sh |
| f36b692e27631a5cc96f705ad06fa4496b70fc59c4ed3b6f9a2efffff503975c | ldr.sh |
| 0703482c9cfd573924c028db0a2563b7e936993a345ad6d92e9cff73030cebc5 | ldr.sh |
| 8f421d90d2697cc38d24858ab894a119719a217157c151eaf9fe9ff55f6387a5 | ldr.sh |
| 752f181073449404df442a56b067951a8ed5a5419129ca5a416e80c376295b54 | ldr.sh |
| 1d42661ed8ee86d6329d27158ba9d1cf6291b1d3c6554ba50b683643f0b89959 | ldr.sh |
| f4098b2e1e861baac736ea9e71c45e488330a3f7a799460f35573014e04152c0 | ldr.sh |
| 73366b91ed479f3394fe2f211edac36df0e90d6be41b7ee0559582a324484e40 | ldr.ps1 |
| 934b422f0b8d26bd1c094bd532ddd947a702262c27991d757a9a6e3672014e98 | ldr.ps1 |
| http://185[.]239.242.71/ldr.ps1 | download urls |
| http://185[.]239.242.71/ldr.sh | download urls |
| http://185[.]239.242.71/sysrv.exe | download urls |
| http://194[.]145.227.21/ldr.sh | download urls |
| http://194[.]145.227.21/sysrv | download urls |
| http://194[.]40.243.98/ldr.sh | download urls |
| http://195[.]58.39.46/asap | download urls |
| http://31[.]210.20.120/ldr.sh | download urls |
| http://31[.]210.20.120/sysrv.exe | download urls |
| http://31[.]210.20.120/sysrvv | download urls |
| http://31[.]210.20.120/sysrvv | download urls |
| http://31[.]210.20.120/sysrvv | download urls |
| http://31[.]210.20.181/ldr.sh | download urls |
| http://31[.]42.177.123/sysrv.exe | download urls |
| http://31[.]42.177.123/sysrvv | download urls |
| http://31[.]42.177.123/sysrvv | download urls |
| http://45[.]145.185.85/ldr.ps1 | download urls |
| http://45[.]145.185.85/sysrv | download urls |
| http://45[.].145.185.85/sysrv.exe | download urls |
| http://finalshell[.]nl/sysrv.exe | download urls |
| http://finalshell[.]nl/sysrvv | download urls |
| 185[.]239.242.71 | IP |
| 194[.]145.227.21 | IP |
| 194[.]40.243.98 | IP |
| 195[.]58.39.46 | IP |
| 31[.]210.20.120 | IP |
| 31[.]210.20.181 | IP |
| 31[.]42.177.123 | IP |
| 45[.]145.185.85 | IP |
| finalshell[.]nl | Domain |