Juniper Connected Security is more than just a marketing catchphrase or a nice metaphorical basket where all of Juniper Networks' information security products can be placed. It is an information security strategy, one focused on the importance of deep network visibility, multiple points of enforcement throughout the network and interconnectivity between both networking and information security products. The expansion of SecIntel throughout Juniper's portfolio is a real-world example of this strategy in action. Bringing threat intelligence to network infrastructure with SecIntel provides customers with a threat-aware network, enabling their network infrastructure to act against attacks and help safeguard users and applications.
SecIntel for a Threat-Aware Infrastructure
SecIntel provides carefully curated, verified threat intelligence from Juniper Networks' Advanced Threat Prevention (ATP) Cloud, Juniper Threat Labs and industry-leading threat feeds to our MX Series routing platforms, SRX Series Services Gateways and NFX Series Network Services Platform to block command-and-control communications at line rate.
Earlier this year, CRN designated Juniper's SecIntel as one of the "12 Cool New Threat Detection and Response Products Unveiled at Black Hat 2019." SecIntel integration has now been extended to EX Series and QFX Series switches, enabling them to subscribe to SecIntel's infected host feed and allowing customers to block compromised hosts at the switch port, simply and easily. Customers can now extend SecIntel throughout their entire network, increasing the number of security enforcement points.
If the expansion of SecIntel capabilities is a technological demonstration of what Juniper Connected Security aims to achieve, 2019 has been a year which reinforced that the Juniper Connected Security approach is working for customers. This year, Juniper Networks was named a Champion in the Infotech SIEM Customer Experience report. In this report , Juniper Secure Analytics ranked first in a number of categories, including service experience and product impact.
Juniper Receives "Recommended" rating from NSS Labs for Juniper's Data Center Security Gateway
This week, Juniper Networks also achieved a "Recommended" rating from NSS Labsfor our ability to secure the data center in their 2019 Data Center Security Gateway (DCSG) report. NSS Labs tested the Juniper SRX5400 firewall with one SPC3 service card, running AppSec and IDP licenses. NSS Labs' independent testing focused on security effectiveness, performance, stability and reliability, and TCO.
"Juniper is back," is the first bullet point listed by NSS Labs under "Key Takeaways" within the DCSG Security Value Map™ Comparative Report. The NSS Labs Data Center Security Gateway tests have traditionally only included server-side evasions, but this year, NSS also included client-side evasions. Juniper scored well, achieving the following results:
100% resistance to evasions
99.62% exploit block rate
13.962 Gbps average secured throughput
Juniper Connected Security represents some of the most effective information security products available on the market today. Making these capabilities available throughout the network increases security for all workloads, no matter where those workloads happen to operate.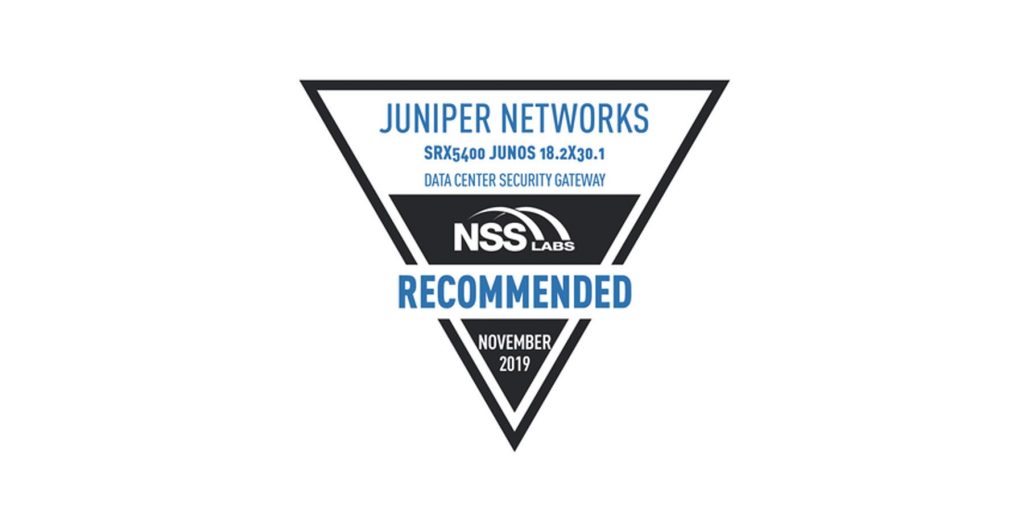 Partner Alliances
Juniper Connected Security encompasses more than just Juniper's own products. By connecting our technologies with those of alliance partners, Juniper Connected Security offers organizations the ability to secure their networks from the endpoint to the edge, and every cloud in between.
For example, organizations can use Juniper Connected Security in partnership with Corero to stay ahead of DDoS attacks using the same security tools that identify and classify the risks of compromised endpoints. These are also the same products used to analyze telemetry from – and enforce policy on – firewalls, switches and routers throughout a customer's network. Juniper Connected Security offers organizations a common toolkit for information security, regardless of a network's scale; one that works with Juniper's own products, those of our ecosystem partners and even those of our competitors.
Security at All Points of Connection
Networking and security are inextricably intertwined. It is when vendors (and customers) attempt to architect their networks using only point solutions that they open themselves up for risk. Effective network security starts with designing the network for both connectivity and multiple layers of security and is achieved by deploying multiple technologies, from multiple vendors, creating a whole that is more capable than the sum of its parts.
"Juniper is back."
– NSS Labs 2019 Data Center Security Gateway Security Value Map Comparative Report, Key Takeaways
Juniper Networks offers organizations the networking and security capabilities they need to not only meet today's challenges, but tomorrow's as well. Our network and security portfolio offer industry-leading performance along with the ability to scale. This is reflected in the 22% year-over-year growth of our security portfolio.
Trust is the real IT security challenge of the next decade. Vendors need to build it. Customers need to be judicious about it. Whom will you trust with the future of your business? Which vendor(s) are you certain will be there a decade from now? Who will provide you cross-vendor integration support today, tomorrow and in the future?
At Juniper, we've refocused our strategic direction of solving our customers' challenges to safeguard users, applications and infrastructure by extending security to all points of connection on the network, creating a network that is threat aware and better able to deliver the reliable connectivity we're known for and a more effective way to secure those connections and the data that traverses them. And we're actively executing on that strategy. Extending SecIntel first to the firewall, then the router, and now the switch allows the threat-aware network we've been talking about to become a reality for our customers.
At Juniper Networks, we are building that trust. One packet at a time.