While other vendors attempt to read your mind, our 4th generation platform will blow yours away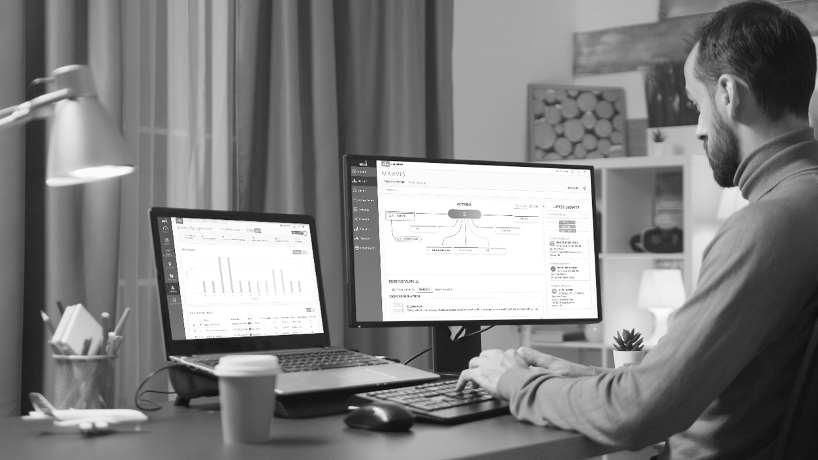 Mist delivered the first AI-driven network almost five years ago, born out of the need to combine network automation with insights to drive great user experiences. With the acquisition by Juniper last year, we have continued to rapidly build on our vision of the AI-driven Enterprise with robust features that solve real customer needs. What started with wireless driven by Mist AI in 2016, when we also introduced Marvis (version 1.0), expanded to wired access in 2019 (version 2.0) and incorporated Security Intelligence (SecIntel) earlier this year (version 3.0).  Over this time period, the Juniper Mist solution has become the AI-driven networking platform of choice for real customers all over the world, including three of the Fortune 10, over 30 of the top 50 global retailers, two of the most prestigious universities and the largest healthcare network in the United States.
We've now raised the bar even higher. Here's what's included in today's announcement:
While other vendors are AI-washing with fancy PowerPoint and marketing slogans, we are delivering even more value to the AI-driven Enterprise with the following new (and real) products:
Juniper Mist WAN Assurance – brings insight and troubleshooting driven by Mist AI to SD-WAN for better end-to-end user experiences. WAN Assurance complements SD-WAN, elevating it to the Juniper SD-WAN Solution. With support for LAN, WLAN and WAN, the Juniper AI-driven Enterprise has now reached its 4th stage of evolution (i.e., AI-driven Enterprise 4.0).
Marvis conversational interface.  As a follow up to the Marvis™ Actions framework launched last year, we have added a new conversational interface to Marvis, our Virtual Network Assistant. This brings AI-driven support to a new level with interactive and intuitive problem solving and insight (that keeps getting better over time).

WAN Assurance: Changing the Game from "Uptime" to "Experience"
While SD-WAN solves many of the issues associated with traditional enterprise WAN routing, most vendors' SD-WAN solutions are built on a static and outdated model. By enforcing SLAs pertaining to network and application behavior, they are solely focused on guaranteeing the performance of a link, not the user's actual experience on that link. As we like to say at Juniper: "up" is not the same as "good". In other words, just because a WAN link is successfully passing traffic, it doesn't mean the users on that link are having a good video conference or SaaS experience. Furthermore, how does an IT administrator know if a change to the WAN made the user experiences better or worse?
So, just like we delivered wired and wireless assurance to optimize user experiences in the LAN and WLAN, we are now doing the same with WAN Assurance. More specifically, we ingest data pertaining to a variety of key WAN attributes like jitter, packet loss and latency and combine it with key application data like connection retries, bandwidth consumption and other application and WAN metrics. The system then uses AI/ML techniques which include mutual information, decision tree and temporal and spatial correlation to optimize and measure user experiences in near real-time. More specifically, you can monitor and enforce customizable service-level expectations for individual users, group users/devices or locations and leverage automated workflows to take appropriate actions when WAN SLEs are not being met.
Juniper Mist WAN assurance is a perfect complement to our existing robust SD-WAN solution (and wired and wireless assurance solutions). It adds WAN insight and troubleshooting driven by Mist AI where it is sorely needed, and it helps transition the WAN industry in the following key ways:
From (telco born) WAN service level agreements (SLAs) to AI-driven service-level expectations (SLEs)
From monitoring your network to optimizing user experiences
From static "intent-based" WAN policies to dynamic AI-driven actions
Combining WLAN, LAN and WAN assurance enables us to deliver unparalleled user experiences, by not only connecting the dots among the AP, switch and gateway networking devices, but also with the user and application, at a temporal scale, from client to cloud.
How Can Marvis Help You? Just ask.
The ultimate goal of an AI-driven network is to proactively maintain network performance with zero human intervention. For example, if the network detects that Samantha's Zoom call will degrade in quality due to issues with a WAN circuit, the AI can adjust policy to bypass the issue entirely.
Marvis is key to this mission. Marvis is an IT administrator's best friend, providing prescriptive actions and proactive notifications on how to constantly optimize user experiences. Last year, we announced the Marvis Actions dashboard, a one-of-a-kind single location for identifying and correcting top wired and wireless network issues. With WAN assurance, Marvis now provides insight into the WAN as well.
But it doesn't stop there. Juniper has taken the automation, insight and actions provided by Marvis one step further by adding a conversational interface to the VNA. Juniper customers can interact with our AI-engine in a simple and refreshing way – as if they were talking to another human IT expert. Marvis can answer questions, ask clarifying questions for additional drill down and guide IT administrators to other areas of interest/importance.
No more CLI. No more hunting and pecking through UI dashboards. The Marvis conversational interface flips this approach upside down, allowing the IT administrator to simply type to the network in simple, efficient human speech. This minimizes training requirements, while avoiding wild goose chases and saving time and money when tracking down issues.
AI-Driven Support: Getting Better with Age
One of the best things about the Juniper Mist platform is that it keeps getting better with time.  Trouble tickets are fed back into the AI-engine, so it constantly learns and adapts. This enables more questions to be answered over time without human intervention (either via recommended Marvis actions or self-driving activities.) Here is a fun fact: while the number of Juniper APs driven by Mist AI deployed in the past 12 months has grown exponentially, the number of manual support tickets have stayed constant during the same time period. This is the power of AI-driven support with reinforcement learning: we get better, so your workload decreases.
Juniper has global support services that help your organization align AI with people, process and technology, accelerating time to value across the entire technology lifecycle. To learn more about AI-Driven support, Juniper offers virtual labs and field trial packages as well as customizable services to advise, design, deploy, migrate and manage all aspects of the AI- driven Enterprise.
Beyond the Hype
AI is essential for IT to keep pace with the soaring number of applications, users and devices within an organization. And it's critical for transitioning away from the old network-centric way of operating networks to one more focused on actual user experience. We didn't need ESP to recognize this trend over five years ago, and we don't need obscure marketing slogans to show the world that AI is truly in our DNA. Our customers speak for themselves. Our track record speaks for itself. And now our product can literally speak for itself, too.
See AI in action. Join Transformation Thursdays, our weekly webinar series, where we demo AI across your network.
Resources and Links